O ur kaleidoscopes can be found at several shows and galleries near Asheville NC, Jerome, AZ and Atlanta GA. Our show schedule and gallery list change occasionally, so please check this page often for the latest information!
If you see a scope on our Web site that is what you want, let us know which model. If you would like to specify certain colors or designs, we are happy to accept custom orders.
We accept American Express, MasterCard, Visa, or PayPal

Our kaleidoscopes may be found at these fine galleries...
Sorry, we do not perform repairs on scopes made by others.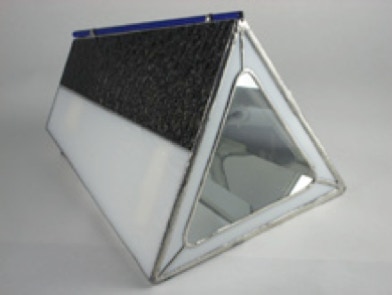 Seven Sisters Gallery 117 Cherry Street Black Mountain, NC
828-669-5107
Art MoB Studios 124 4th Avenue East Hendersonville, NC
828-693-4545
Nellie Bly 136 Main Street Jerome, AZ
928-634-0255
The Kaleidoscope Shop Atlanta, GA
678-937-2673
or may be ordered directly...
or call us at 828-708-2678 and let us know what kind of kaleidoscope you have in mind.

All our scopes can be packed for shipping. Extra wheels and cylinders are also available for your
Optical Wonders Kaleidoscope
Marshall and Suzanne Fisher